Welcome to Our Site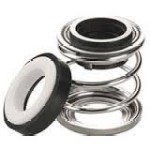 A. M. Associates is an ISO 9001-2000 Company. Our specialization is in Mechanical shaft seals. Our range of products find its applications in almost all industries. Our Seals are manufactured using superior quality raw materials and go through strict & rigid quality control to confirm to International standards and specifications.
We also develop customized seals as per individual drawing specifications, and standard requirements and provide support for our clients with our prompt after sales services
Our other activities include trading in spares for Yeast/ Oil / Cream separators, PHE Plates & Gaskets for plate type Heat exchangers and all types of Valves. We also offer a wide range of transfer pumps for dairies, distilleries Oil & chemical Applications. We also deal in wide range of Openwell, Borewell Submerisbe and Monoblock pumps for Domestic, Industrial & Agricultural applications.

Quality Policy
We at A.M.Associates are committed to deliver value based products and solutions to meet the utmost satisfaction of our customers..
At the end of the day, Key to success is in understanding, mastering, & practicing customer requirements, Because it is THE only solution to Customer Satisfaction..